German Packing Case
This case was brought back from Europe after WWII by my great-uncle.
It is missing the inner box, and the right side latch is damaged but still there.
CLICK ON ANY PHOTO TO SEE FULL SIZED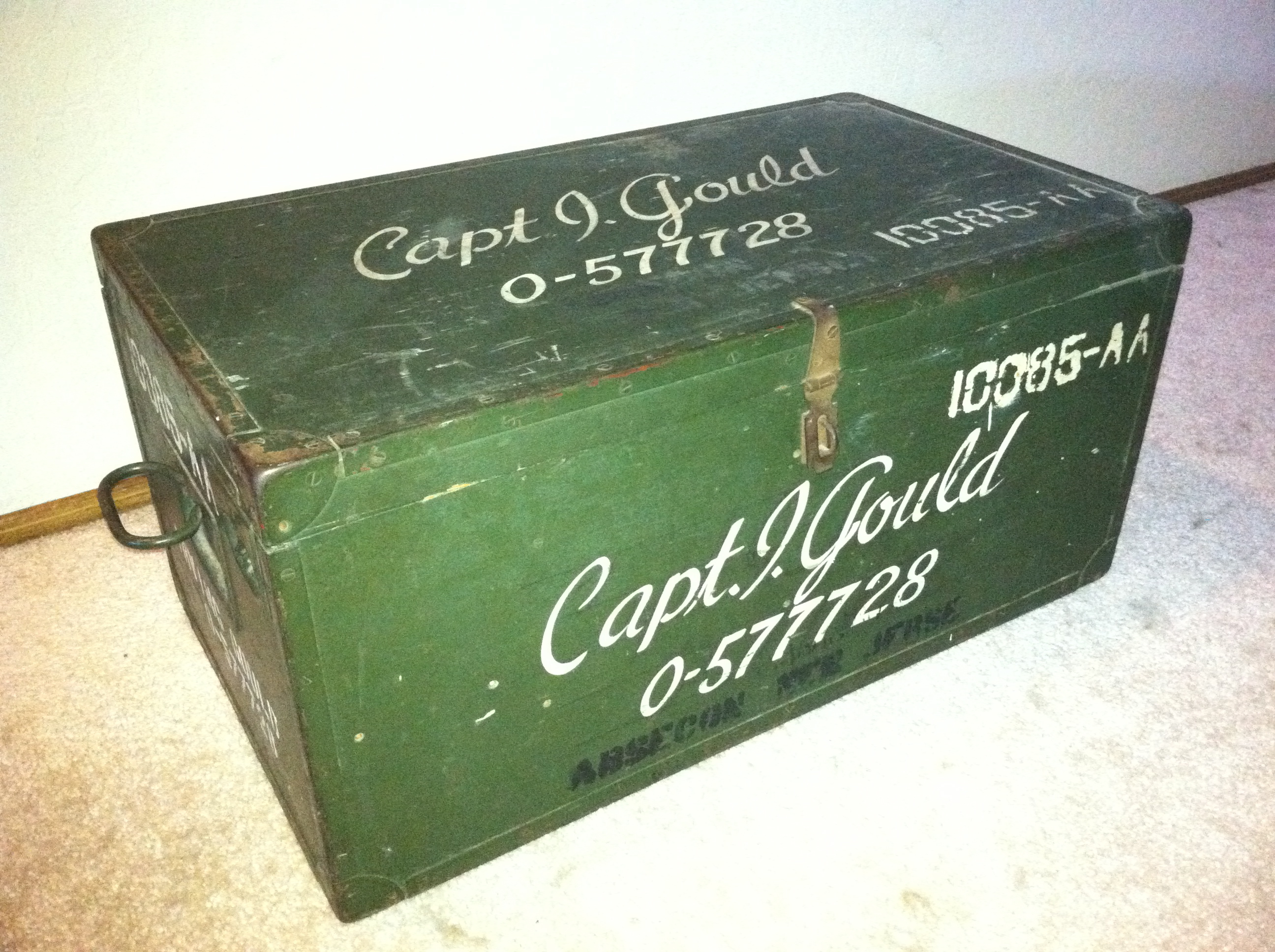 Below is the text from the packing label, converted from blackletter and translated as best possible. [?] for gaps where the label is rubbed off or illegible.
Kiste vollstandig verpackt Unterer Teil Kistenboden verpackt
Completely Packed Crate Lower Part of Crate Packed
Einsatzkasten
Insertable case
Verpackungsanweisung
Packing directions/instructions
fur «Satz Gasschutzvorrat 30» (ch 20)
for «Set(?) Anti-gas Protection Supply/Reservoir 30» (ch 20)

a) 6 Rastentorper (2 Gr. 1, 3 Gr. 2, 1 Gr. 3)
6 Rest/halt-body (2 Gr. 1, 3 Gr. 2, 1 Gr. 3)

b) 6 Trogbuchsen mit Schultergurt, Knopfband und
6 Carry-cannisters with shoulderguard/strap, belt and button

2 Doppelknopfen
2 Double-botton/knob

c) 20 Filtereinsatze (davon 12 in Tragbuchsen)
20 Insertable Filters (12 of them in cannisters)

d) Reizkorper (in Pactbuchse)
Irritant (in Packing cannisters)

e) Fach fur 24 Packungen Hautentgiftungsmittel
Space for 24 Packs Skin poison-antidote/detoxifier

f) Entseuchungsmittel (1 Originalpactung)
Decontamination antidote/agent (1 Original-packing)

g) Zwischenboden
Middle shelf

h) Einsatzkasten
Insertable chest/box

i) Fach fur Einsatzkasten und Tube Klebstoff
space for Insertable chest/box and tube of adhesive/glue
Inhalt des Einsatzkastens
Contents of the Insertable chest/box
k) 24 Augenscheiben
24 Eye lenses/discs

l) 24 Unterlegringe
24 Washers

m) 12 Sprengringe
12 Circlips

n) 14 Paar Klarscheiben
14 Pair of clear/plain lenses/discs

o) 10 Paar Klarscheiben und darunterliegend
10 Pair of clear/plain lenses/discs and situated below them/underneath

8 Dichtringe (fur die Augenscheiben)
8 Sealing rings (for the Eye-lenses/discs)

p) 4 Dichtringe (fur die Filtereinsatz)
4 Sealing rings (for the filter cartridge)

q) 3 Ausatemventil (in 3 Blechdosen)
3 Exhalation valves (in 3 metal cans)

r) 4 Dichtringe (fur Ausatemventil) in einer
4 Sealing rings (for Exhalation valves) in an

4 Einatemventil Aluminium
4 Inhalation valves Aluminum

6 Duppelknopse fur Kinnstutze buchse
6 Double-button/knobs for Chin piece box

s) 2 Schlussel fur Augenring
2 Wrenchs/keys for Eye rings

2 Key ring for eyes

t) 2 Ventilschlussel 30
2 Air Valve Wrenchs/keys 30

5291-36


Paraform [LABEL OF ITEM f) IN PHOTO]


Klarscheiben und Peachll-ed----til [LABEL ON ITEM o) IN PHOTO]
clear lens/discs and [?] Plain discs and [?]

nicht ------
not [?]

nar am kund ansassen
[?] the known [?]
CLICK ON ANY PHOTO TO SEE FULL SIZED